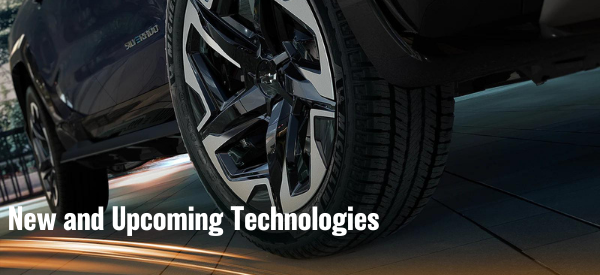 The Chevy brand epitomizes growth and innovation. With cutting-edge technology evolving annually, consumers are pleasantly surprised about what Chevy vehicles have to offer.
Smith Chevrolet is your source to learn more about the new and upcoming technologies. Whether you're in the market for new vehicles, need financing, or have new parts, there's no better dealer than Smith Chevrolet Lowell.
EV Technology
Electric vehicles are rising in popularity, and Chevy offers the technology needed to make them as convenient as possible. No more worrying about slow charging or the inconvenience of charging your vehicle. Chevrolet offers faster charging at home with Level 2 charging units. Their 240-volt can charge the Bolt EV up to 39 miles of range per hour of charge. With over 40,000 public charging stations and the myChevrolet Mobile App helps you to find the nearest location, it's never been easier to stay charged on the go.
In-Vehicle Technology
Staying connected and entertained on the go with Chevy's in-vehicle technology. Chevy features their latest and most advanced Infotainment 3 system, in virtually every Chevy car, SUV, and truck. With the Plus or Premium versions of the Infotainment 3 system, users have access to enlarged and high-definition touch screens along with built-in navigation. It'll also include enhanced voice recognition, a comprehensive list of in-vehicle apps, and cloud-based personal profiles.
Safety Technology
It is undeniable that Chevy puts safety first. Here are some Chevy facts for you. In 2022 models, Chevy has received 5-star safety ratings among many of their popular vehicles, including the Bolt EV, EUV, Silverado 1500, and Traverse. How's that possible? The safety technology package that is available in Chevy vehicles is unmatched.
Perhaps, Chevy's most advanced safety feature is their Super Cruise technology, a hands-free driving system that drives the vehicle autonomously. It utilizes precision LiDAR map data along with sensors, real-time cameras, and GPS to maintain control. With Adaptive Cruise Control, it's made to detect vehicles in your path and brake or accelerate your vehicle based on the traffic conditions surrounding you.
Check Out the Latest Technologies at Smith Lowell
Now's your chance to check out the innovative technology for yourself. Smith Lowell is the Chevy dealer near me you've been looking for. Test drive your dream cars and test out the Chevy technology for yourself. Stop by our dealership at 700 W. Commercial Ave, Lowell, IN 46356, or call our sales department at (219) 552-8041.