70 Years of the Corvette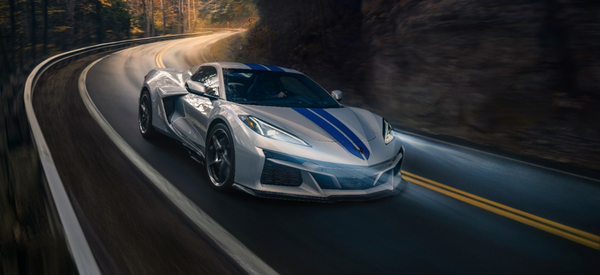 The Chevrolet Corvette debuted exactly 70 years ago at Motorama in New York City. This piece of Chevrolet history would change the brand for decades to come. And now, Chevrolet is introducing an electrified AWD Corvette to celebrate its 70th Birthday. The first-ever eAWD Corvette E-Ray uses an advanced electrified propulsion system in addition to its 6.2L LT2 Small Block V-8 to enable all-season performance and composure — and it reaches 0-60 mph in just 2.5 seconds. Check out the 2024 Corvette E-Ray today at Smith Chevrolet Lowell! 
70 Years of Corvette History
When the first Corvette was introduced 70 years ago, no one could have imagined an electrified version or even the recent Corvette C8. But that's exactly what the E-Ray brings to the table—honoring the history of the Corvette while moving the sports vehicle into the electrified future.
The President of General Motors, Mark Reuss, said, "In 1953, the enthusiastic reaction to the Chevrolet Corvette concept kicked off seven decades of passion, performance and American ingenuity. E-Ray, as the first electrified, all-wheel-drive Corvette, takes it a step further and expands the promise of what Corvette can deliver."
Like Nothing Else
Over 70 years and eight generations, the Corvette has been innovated upon time and time again. And now, it's been electrified for the first time with an e-AWD system that works in tandem with its LT2 V8 engine to give it the fastest 0 to 60 time ever for this legendary nameplate. But this latest Corvette isn't made simply for performance. With standard all-season tires and Magnetic Selective Ride Control, the 2024 E-Ray is made for all-season touring too.
Faster than Everything Else

Wondering what is the fastest Corvette? The quickest production Corvette in history is the 2024 E-Ray, clocking a 2.5-second 0-60 mph time before breezing through the quarter mile in 10.5 seconds.
A near immediate feeling of thrust from low-end torque is core to the Corvette driving experience, and the E-Ray packs plenty of it. In total, E-Ray produces a combined 655 horsepower from both the electric motor and Small Block V-8. Power comes from the 6.2L LT2 Small Block V-8, putting 495 horsepower and 470 lb.-ft. of torque to the rear axle. It is complemented by an electric motor that channels an additional 160 horsepower and 125 lb.-ft. of torque through the front wheels via a 1.9 kWh battery pack.
Visit Smith Lowell! 

Looking for a Chevy dealer near me? Visit Smith Chevrolet Lowell today for all your needs, whether you're looking for a new or used car, need to schedule service, or want to trade-in your vehicle today! Our unmatched service and diverse Chevrolet inventory have set us apart as the preferred dealer among Chevy dealers Lowell, Indiana. Stop in today to check out 70 years of the Corvette—we have 2023 Corvette models available now!