How Often Should I Wash My Car in the Winter?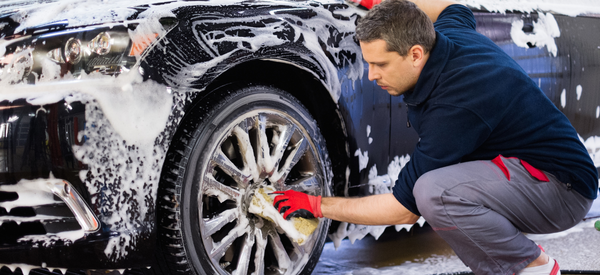 Winter weather means the roads will be regularly covered in salt to counter snow, ice, and slush. Although salt plays an important role for public safety in the winter, it has degrading properties that can also damage your vehicle if you're not careful. For example, salt can destroy your vehicle's finish, increase rust, and potentially interfere with your car's winter driving performance. Avoiding salt damage is just one of the many reasons to increase the frequency of washing your car in winter. Schedule your car wash now at Smith Chevrolet Lowell! 
Benefits of a Professional Car Wash
Washing your vehicle regularly is important to remove salt buildup and other damaging materials on your vehicle's exterior. Unlike those you can do at home, professional car washes use high-pressure hoses to spray the salt off of hard-to-reach areas like beneath wheel wells and behind fenders to ensure all salt is thoroughly washed off.
Make sure to get your car wash during the day. This allows more time to dry since the frigid temperatures at night will just freeze any remaining moisture. The optimal temperature for washing your vehicle is 40°F or higher.
How Often You Should Get a Car Wash
Typically, vehicle experts recommend getting a car wash roughly once every two or three weeks. However, the inclement weather conditions present in winter require shorter intervals between car washes. The recommended frequency for car washes during the winter months is about every ten days, but drivers in very snowy areas should wash their vehicle every five to seven days. Although this might seem like a lot, most car washes have frequent customer deals that allow you to save money if you purchase a package.
Regularly Wash Your Vehicle's Tires
Another important car washing tip for the winter months is rinsing off your vehicle's tires. Tires are closest to the road and have pockets that might pick up salt during the course of your drive, so they receive the most exposure to salt throughout the winter. This means you should pay extra attention to your vehicle's tires. It's a good idea to rinse your tires yourself more frequently than your regular car wash. Keep them clean and salt-free by checking and rinsing them every few days or so.
Visit Smith Lowell! 
Looking for a Chevy dealer near me? Visit Smith Chevrolet Lowell today for all your needs, whether you're looking for a new or used car, need to schedule service, or want to trade-in your vehicle today! Our unmatched service and diverse Chevrolet inventory have set us apart as the preferred dealer among Chevy dealers Lowell, Indiana. Schedule winter maintenance, including a car wash, today!