Silverado EV vs F-150 Lightning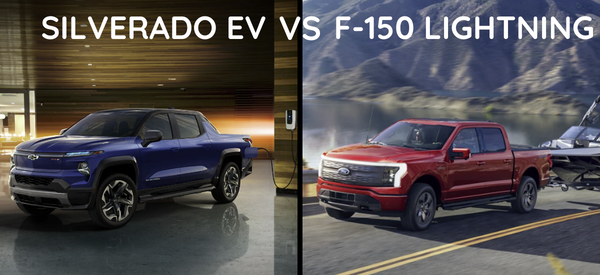 Chevrolet and Ford, two of the most iconic American car companies, are in a race to reach the all-electric future. Both manufacturers recently released an electric pickup as part of their electric lineups. Ford released the F-150 Lightning last summer, and Chevrolet debuted its all-new Silverado EV earlier in 2022. There's a lot of similarities between both electric pickups, and you can order either now from Smith Ford or Smith Chevrolet!
Comparing Power and Performance
Chevy's all-new electric pickup is the only electric vehicle worthy of the Silverado name. Even with all of its new features, the Silverado EV has a century-long reputation of truck cred to uphold. That's why the electric Silverado produces 664 horsepower and 780 lb.-ft. of torque, topping even the most powerful F-150, which only produces 563 hp and 775 lb.-ft. of torque.
Adding even more performance, the electric Silverado gives you great onboard power with 10.2 kW of power and 10 outlets. In contrast, the F-150 Lightning also has 10 outlets but less power with only 9.6 kW. Unlike the F-150, the electric Silverado keeps you charged and connected wherever the road takes you.
Silverado Takes the Edge on Capability
The Chevy Silverado electric features a bed measuring 5 ft. 11 inches, so you'll have plenty of storage and cargo room. The F-150's is significantly smaller, though, at only 5 ft. 5 inches. For towing, the base electric Silverado pulls 8,000 lbs., while the base F-150 can only haul 7,700 lbs. With a bigger size and greater towing capacity, you won't have to sacrifice capability with the Chevy electric truck.
Autonomy and Pricing
Both electric pickups will feature their manufacturer's optional autonomous systems. While the F-150 will have BlueCruise, the electric Silverado features GM's SuperCruise. Silverado 4 point turning also outmaneuvers the Ford. You'll pay more for the Ford, though. The F-150 starts at $39,974, while the Silverado EV starts at only $39,900 plus electric vehicle tax-credits and incentives.
Silverado EV Tops the Ford
When it comes to the Silverado EV vs Ford Lightning, the electric Silverado has better performance, more autonomy, a lower price, and greater capability. With Chevrolet's first-ever all-electric Silverado pickup, the open road is waiting. The Silverado EV isn't just a truck. It's a category-defying, boundary-breaking game changer that can be what you need and want it to be. Get your 2023 Silverado EV now.
Visit Smith Lowell!
Looking for a Chevy dealer near me? Visit Smith Chevrolet Lowell today for all your needs, whether you're looking for a new or used car, need to schedule service, or want to trade-in your vehicle today! Our unmatched service and diverse Chevrolet inventory have set us apart as the preferred dealer among Chevy dealers Lowell, Indiana. Visit us to learn more about the exciting new Silverado EV today!